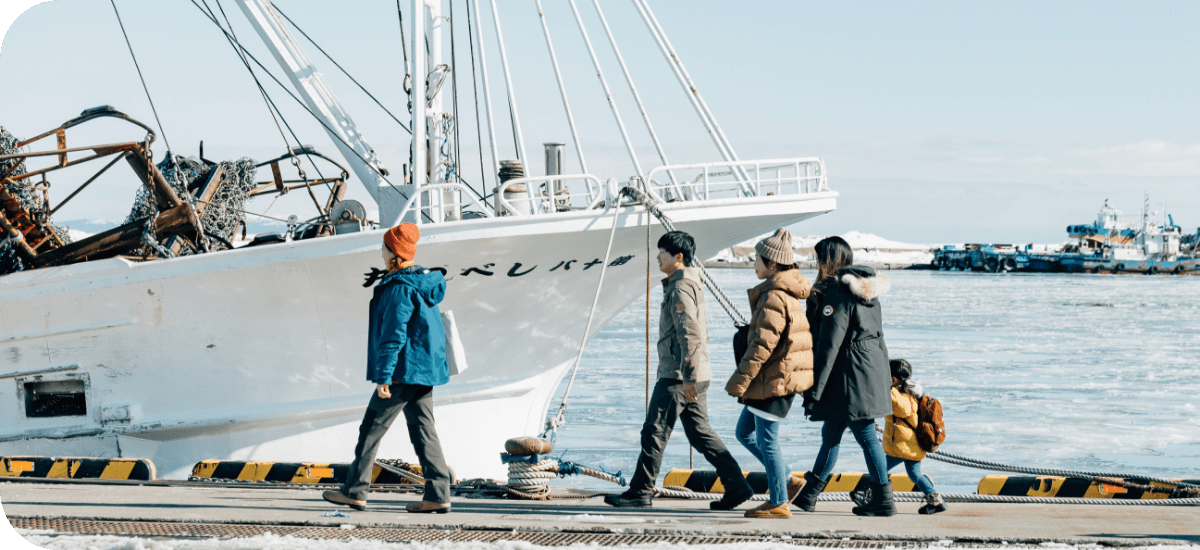 LOCAL TOUR
The most delicious experience in the Nemuro Straits, Hokkaido.
In Shibetsu, on the Eastern edge of Hokkaido, fishermen prepare their boats and farmers tend their cows. Life here is a continuation of traditions that have existed for over 10,000 years in the Nemuro Straits.
Amutoki's goal is to provide tours that weave the experiences of travelers into the fabric of local life.
Scallop tour

Observe the fishing boats loaded with freshly caught scallops and the auctions at the fishing port. After a tour of the fisherman's workshop, there is lunch with fresh scallops.


Fall salmon fishing season only: Shibetsu Morning Tour (breakfast included)

This tour combines a visit to the Sunrise Salmon Landing and a Nemuro Straits Salmon Chazuke making in one tour. Enjoy Shibetsu town before sunrise!

Nemuro Strait Salmon Chazuke

Ochazuke is a Japanese fast food. The UMAMI flavor of the "Heritage of Salmon," a Japan Heritage site, is put into a one bowl. Solted salmon which called "Yamazuke" as main ingredient and you will enjoy Dashi broth made from Rausu sea kelp, salmon fish flacks, dried scallops and Shiitake mashroom. Please enjoy delicious ochazuke while learning about each dashi and its flavor.

Sakebushi Factory Tour & Nemuro Strait Salmon Chazuke

This is a set tour that includes a tour of the Sakebushi factory and making Nemuro Strait Salmon Chazuke. After going into the salmon fish flacks factory, you are going to shave drided salmon to make salmon fish flackes. Fainaly, topping the Nemuro Strait Salmon Chazuke with freshly shaved salmon fish flacks. Let's have your special Ochazuke! Itadakimasu!